UA does not provide accommodation for students, but on this page, you will find some tips to guide you in your search. There are various types of accommodation in Angers, but you can avoid unnecessary stress by searching for accommodation as early as possible.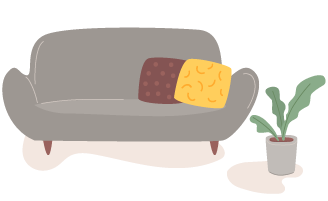 There are several housing solutions: a room at the student hall of residence with the Crous, a room at a private student hall of residence, a private rental (apartment or room), social housing, flatsharing, intergenerational shared housing, youth homes…
The demand for accommodation in Angers is very high in September. Start your search early and consider extending it to the neighbouring suburbs of Angers which are serviced by public transport:
Beaucouzé and Saint Barthélémy d'Anjou are serviced by bus line 4
Saint Sylvain d'Anjou and Trélazé are serviced by bus line 2
Avrillé is serviced by the tramway and bus line 3
Mûrs-Erigné is serviced by bus line 3
Les Ponts-de-Cé is serviced by bus line 8
Good to know
Your obligations when you rent or vacate an accommodation
Your obligations
In order to sign your rental agreement (bail) you will have to:
Find a guarantor (or third-party guarantee)
This is a natural or legal person who undertakes to pay the rent in the event of default by the tenant.
If you do not have a guarantor, the garantie visale can help you.
Pay a security deposit
This is a sum of money requested upon entry to the rental and is intended to cover any possible damages. This sum is collected by the owner (loueur). It will be fully refunded by the owner within one month after the inventory of fixtures or upon return of the keys if the accommodation is returned without damage.
Locapass can provide an advance for the security deposit.
Subscribe to home insurance (assurance habitation)
The insurance contract covers your personal liability and protects your home and its content against risks (water damage, fire, theft, etc.). It is compulsory.
Pay your rent (loyer) every month
You will receive proof of payment (Quittance de loyer) when you pay your rent.
APL: (Aide Personnalisée au Logement) of the CAF can help you finance part of your rent.
When you vacate your accommodation:
You will have to give notice: This is the period of time that a tenant must respect before leaving his or her accommodation. It is one month for a furnished rental and three months for an empty rented accommodation, except in large conurbations or tense areas.
Advice and guidance for your search
City of Angers
The City of Angers offers a housing guide. With its practical advice, the guide "My first accommodation" will help you in your first steps and throughout your rental. Consult the guide
The J, Angers connected youth informs young people aged 15 to 30 in all areas of daily life (jobs, studies, housing, leisure, etc.) and offers on its premises:
precise and complete information, to help young people in their search for accommodation by providing the "My first accommodation" guide as well as a list of useful addresses, a list of consumer defence associations, a list of useful websites and a space for private housing ads… and whatever the problem, the J can relay to requests to specialized structures…
a personalized information service, provided by the Service Logement Jeunes (SLJ – association for housing for young people) without an appointment on Thursdays from 2 p.m. to 5 p.m. (Information and help on finding accommodation, search techniques, housing budget, housing aid). They also receive the public from Monday to Friday from 9 a.m. to 6 p.m.
Angers Loire Metropole
Accueil Logement – ​​Angers Loire Métropole: this service informs and guides people searching for accommodation and those who encounter difficulties related to their accommodation.
Crous
A housing reception unit informs and guides you in your search for accommodation, from 1 September to 7 October 2022, from 10 a.m. to 12 noon and from 2 p.m. to 4 p.m., at 8 Boulevard Beaussier.
Warning signs
A rent excluding utilities that is well below market prices (less than €230 for a room or studio, €400 for a T1 bis and €500 for a T2);
A poorly written ad with spelling errors;
A landlord who cannot meet you (for example, indicating that he/she is abroad);
Accommodation offered in return for services rendered (except for known schemes);
Requests for payment in cash, money orders or prepaid cards
A few basic guidelines to apply to your search
Check that the accommodation exists;
Do not rely on photos, go to the property, look on the internet… ;
Do not pay any money (in cash, money orders or prepaid cards) to block or to visit a room before signing the lease;
Have someone accompany you when you visit the accommodation;
Send crossed-out copies of personal documents (identity papers) to limit the risk of identity theft.
Aid for work-linked students
Action logement :

Mon job, mon logement : if you are on a work-study programme, you can benefit from financial aid of €1,000 to settle in your accommodation. Please note that this aid is granted subject to budgetary availability.
Aide MOBILI-JEUNE : this grant covers part of the rent (between €10 and €100 maximum) each month for a maximum of one year. It is aimed at young people under 30 years of age, in work-linked training (under an apprenticeship or professionalization contract).

ViaHumanis : If you are alternating in a private company of +10 employees, and you have to move more than 70km from your current home, ViaHumanis offers solutions to support you in your search for housing. ViaHumanis Angers : 02 52 70 04 01 | alternant@via-humanis.fr
DossierFacile is a platform that aims to increase its user's chances of obtaining a visit by helping them to compile a clear and complete file for the owners.
Upload your supporting documents.
DossierFacile verifies the completeness of the file and validates it.
Your file is ready to be sent to the owners in a secure way: via URL link or in PDF format.
Where to search