#1jeune1solution aid simulator
To find out about all the grants and subsidies to which you may be eligible, you should run a simulation on the #1jeune1solution national website. Please note that if you are dependent on your parents, you will need to enter their overall gross income (latest tax notice).
Check out the #1jeune1solution aid compass
Crous grant
The Crous offers various forms of assistance: grants based on social criteria, specific aid, merit-based aid, mobility aid, etc.
Information on grants based on social criteria
Financial aid from the Maine et Loire Department
The Department of Maine et Loire can offer certain types of grants, subject to conditions. To find out more (in French), click here.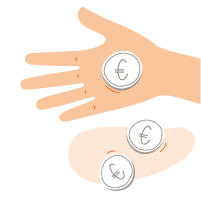 Attendance requirements
Students with grants are required to attend classes, internships, practical work and seminars. Exam attendance and continued assessment is required, under penalty of reimbursement of the sums received. All absences must be justified to the school.
For more information in French, click here