Be guided on arrival and live an intercultural experience!
The UA Buddy System is a sponsorship program that promotes intercultural exchange and the integration of international students at the University of Angers.
By enrolling in the Buddy System, an international student can be helped by a local student upon arrival. For example, he can be met at the station, accompanied to his accommodation, be informed about public transport or helped with administrative procedures, etc.

If you need to apply for a visa to study in France, do not sign up for the Buddy System until after you have obtained your visa.
How to become a Buddy ?
Register on the platform www.buddysystem.eu
Read the Buddy Agreement and create your profile on the Buddy System Platform as soon as possible.
Fill in as much information as possible – it will help us find the perfect Buddy Mentor!
UA will find the Buddy Mentor that best matches your profile, ideally, someone who studies at the same faculty or on the same campus.
And don't forget to validate the profile via the confirmation link that you will receive by email.
First contact with you Buddy Mentor
Your Buddy Mentor will contact you. Please reply quickly. This contact will allow to ask any questions you might have while planning your arrival (transportation, local customs, anything special to prepare for, etc.). It also gives you the chance to know someone on-site, which can in some cases be reassuring.
You and you Buddy Mentor can arrange to meet at the train station upon your arrival so that he/she can accompany you to your accommodation.
Please note : that you should arrange and agree on this as early as possible so that your Mentor can free his/her schedule.
When you arrive in France
Your Buddy Mentor will pick you up upon your arrival. If you have agreed on this, the Buddy Mentor will accompany you to you accommodation. They can also show you the local grocery shops in your neighbourhood and the public transport system.
The Buddy Mentor can help you with certain administrative tasks, such as getting a French phone number, opening a bank account, etc.). If you need help with such tasks once you are in France, you can contact your Buddy Mentor.
The Buddy Mentor can also show you around:
the city, your neighborhood, the cafés and bars, the museums, shops and events. The Buddy Mentor might also invite you to his/her parties or outings. If you accept these invitations, it is a great way to meet other local students.
UA, the campus, the faculty and other student services (The International Student Office, le Infocampus help desk, the student registration office, etc.).
Don't forget to show initiative and ask the Buddy Mentor to go out (for coffee, to see the tourist sites, etc.). The International Welcome Office will also organise events and trips throughout the semester for you to take part in with or without your Buddy Mentor.
Keep in touch during the semester
You can ask the Buddy Mentor questions throughout the semester or simply stay in touch for social reasons. Who knows? The Buddy Mentor might become a friend for life…
Appli UA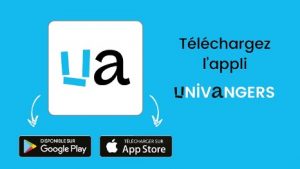 The free UA application gives you access to your timetable, your dematerialised student card and a whole range of practical and contextualised information (maps, dining hall menus, seats and group study rooms at the university libraries, personalised alerts, news and much more). Activate the notifications to find out everything in real time, including last-minute course cancellations or classroom changes. Download the app on GooglePlay or at the AppStore.
Contact the Buddy Coordinator:
The International Student Office
La Passerelle
Campus Belle-Beille
2 rue Lakanal
49000 Angers